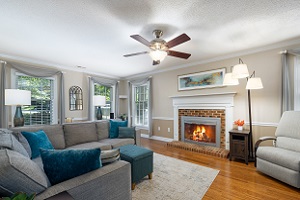 Protection inside and out.

YOUR CHOICE HOME, YOUR DWELLING, AND PERSONAL PROPERTY ARE PROTECTED, PLUS OTHERS.

GET REWARDED FOR REMAINING CLAIM-FREE. HELP KEEP YOUR RATES AND POLICY INTACT. HELP PROTECT YOUR BIGGEST INVESTMENT.

You always pay your premium but never file a claim. We think you should be rewarded for that. You shouldn't have to avoid filing a claim on your homeowner's policy for fear of your rates going up or your policy being dropped. You can sleep better at night knowing you have PROPER comprehensive coverage.

Claim-Free Bonus. You'll receive up to 5% toward your renewal premium after you've gone 12 months without a claim

Claim Rate Guard. Your rates won't go up just because you file a claim. (This feature applies to one claim every five years.)

Guaranteed Renewal for Claims. Your homeowner's policy will not be dropped just because of the number of claims you file:

Coverage Cushion. Extends your limits an additional 20%

Contents Coverage. Your coverage for contents is equal to 75% of dwelling limit.

THESE COVERAGES ARE ALSO INCLUDED WITH YOUR CHOICE HOME:

Medical protection.
Helps pay for medical expenses on covered losses for visitors who are injured on your property.

Additional living expenses.
Helps pay reasonable increase in living expenses (e.g., hotel) if your home becomes uninhabitable after a covered loss, such as a fire.

Family liability.
Helps pay for covered damages that you're legally obligated to, such as bodily injury and property damage lawsuits.

YOU CAN ALSO CHOOSE OPTIONS TO FIT YOUR INDIVIDUAL NEEDS:

Prized Possessions. Increases limits up to $10,000 for jewelry, watches, furs ($2,500 per item), $10,000 for theft of silverware

Home Enterprise Coverage. Expands coverage for office or studio, including $5,000 for Electronic Data Recovery and liability protection

Identity Restoration. If you're a victim of identity theft, this coverage can help you restore your good name. Includes up to $25,000 reimbursement for covered expenses

Electronic Data Recovery. Covers up to $5,000 for recovery of lost data from computer

Yard & Garden. Increases limits and expands coverage for items including trees, landscaping and $20,000 for riding lawn mowers

Sports & Leisure. This option provides protection up to $10,000 for sports equipment, including up to $5,000 for kayaks, canoes and other watercraft

Music & Photography. Expands coverage up to $5,000 for musical instruments and $5,000 for camera equipment ($10,000 total)