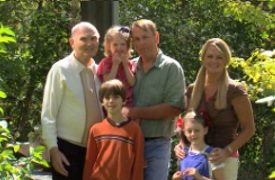 Protect what you own. Prepare for the future.
Take the safer route.
Your loved ones have so much to look forward to in life. And you want to do all you can to help them realize their dreams. That's why you need to prepare for the unexpected. Although it's hard to think about, there may come a day when you're not around to give your family the support they need. To make sure they'll be taken care of no matter what, you'll want to make the right plans. That's where life insurance comes in.

Who Needs Life Insurance?
Parents who want to make sure their children are cared for
Those with debts they don't want to pass on to loved ones
People who want to lock in a lower insurance rate while they're young
Homeowners who want to make sure their family can pay off the mortgage if they cannot
Families who rely on a stay-at-home parent
If you have a life insurance policy through your employer, because your policy does not go with you when you switch jobs
Entrepreneurs who want to protect their business
Those who want to leave a legacy for their children and grandchildren
Talk to our agents today about:
Asset Protection
Auto, home, boat, renters, motorcycle, RV, landlords, business, and other property insurance

Family Life Protection
Term and permanent life insurance
Extended care
Cancer, accident and hospital
Indemnity insurance
You Adjust Your Life Insurance Policy?
You never know when you'll need life insurance; that's the hard part. So even though your policy might be long-term, you need to make sure it offers the right amount of benefits for your current situation.

A good rule of thumb is to recalculate your life insurance needs once a year or more often if there's a major change in your life.